Johnny Cash singing
"The Night They Drove Old Dixie Down"
to a bunch of soldiers in Civil War-era clothes is an interesting sight--and one that sounds really good too. The camp value of Johnny and the soldiers singing the chorus together is off the charts.
Until last night, I had no idea that Johnny did a cover version of
"Heart of Gold"
because I don't own his album
Unearthed
. Less surprising is that it's actually quite good--including the guitar playing of John Frusciante from the Red Hot Chili Peppers.
Johnny Cash on Seasame Street singing "Nasty Dan" to Oscar the Grouch is just gold.
Many of the finest musical performances on YouTube are by Neil Young, circa 1971, with
"Old Man"
and
"Heart of Gold"
leading the way.
My favorite Neil Young song?
"Powderfinger,"
and although this video doesn't sync up perfectly, it still packs a punch that few other songs do.
Lastly, here's Neil singing
"The Needle and the Damage Done"
on
The Johnny Cash Show
.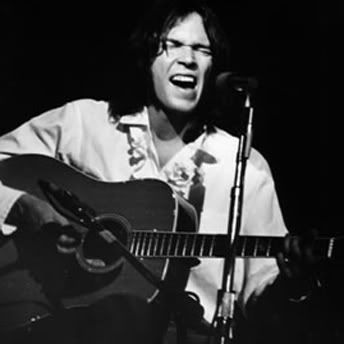 Such great artists.